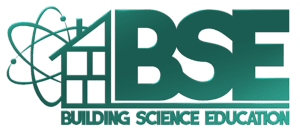 When you learn from Building Science Education by Building Science Institute, Ltd. Co., you get the confidence and clarity needed to do your job better.
Energy code inspections
Energy ratings
Greenbuilding verification
Sustainable design & construction
Residential commissioning
The last thing you need is to learn from an armchair "expert" who hasn't done anything they teach.
Or worse, are great at doing the job…but suck at training!
Those cats are worse because they don't know what they don't know and think because they are good at doing the work…they're also good at training how to do the work.
They sucker you in, take your money…
And bore you to death with bad instructional design and the personality of a turnip.
Honestly, you'd be better off if you just beat yourself to death with a foam brick than sit through one of those classes.
The good news is you don't have to.
Our training is designed through evidence-based principles of instruction coupled with decades of experience in the job AND in training people to do the job.
Plus, we won't bore you to tears…
Do yourself a favor and check out our course catalog right now!